Posted by Jim Bilger on 8th Dec 2015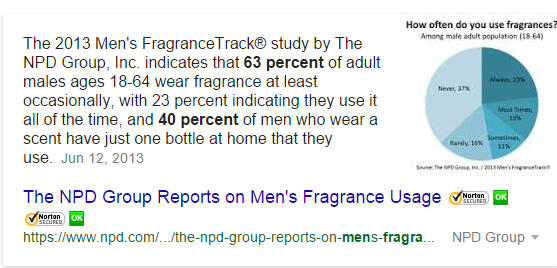 What percentage of men wear scents like cologne? Good question. Inquiring minds want to know.
Overall Percentages
When you Google it, the answer is 63% occasionally and 23% all the time. See graphic above. Apparently the stat does not include aftershave or body sprays.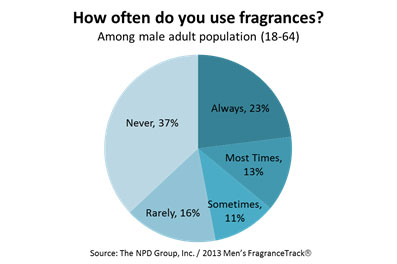 Now the Wall Street Journal uses a different source,: "In a report from market researcher Mintel, 55% of men said they wear cologne."
State & Country %
The discussion board Basenotes, "loving perfume on the internet" has a thread on the topic.
In discussions on this board, American guys from Minnesota and Oregon are guessing in the 10% range, plus or minus. ("I think even adding in deodorant and antiperspirant- daily - - you might get to around 20% .")
A man from Puerto Rico says 15% here.
Singapore says 0, nobody.
Abu Dhabi says "110% of men here. The 10% is the overflow of influence onto expatriates here."
Germany suspects "daily use, no; aftershave < 5%; on special occasions < 10%."
Spain claims 80%, "but if you discount the people who has less than 2 bottles and this bottles are le male or Hugo boss the number decreases to 10%."
Add your state or country stat (your guess is fine) with a post on our Twitter or Facebook page.
Related Posts
9 Mistakes Guys Make with Aftershave and Cologne
23 Reviews of Pinaud Clubman Virgin Island Bay Rum Aftershave