Posted by Jim Bilger on 8th Nov 2015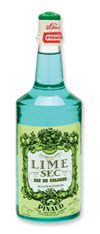 If you would like to give your man a cologne this holiday season, we thought you might like to consider Clubman Lime Sec Eau de Cologne. Officially, Lime Sec has a zesty fern-like fragrance with a top note of line and middle notes of floral.
Lime Sec Reviews
Here are comments and reviews of ClubmanOnline fans about this cologne:
@ClubmanOnline I am terrible at scent descriptions but here we go, "zesty sweet lime with some light earthy tones"

— J Cantrell (@JJcantrell88) November 7, 2015



Where to Buy
Of course, you can buy Clubman Lime Sec Eau de Cologne here at ClubmanOnline.
By the way, sec, as in Lime Sec, means "dry" in French.
Related Posts
Humorous Review of Clubman Aftershave Lotion, a Clubman Pinaud Product
Where Can I Find Reviews of Clubman Pinaud Shaving and Grooming Products?