Posted by Jim Bilger on 29th Nov 2015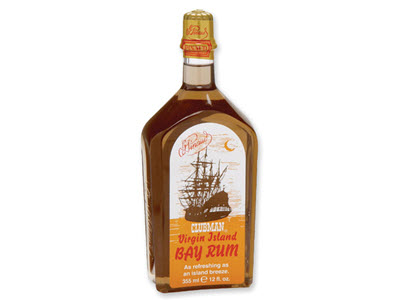 The classic bay rum scent, Clubman Virgin Island Bay Rum is the essential all purpose fragrance. It is formulated with a unique blend of exotic spices and essence of bay tree.
Not just an after shave, Pinaud Bay Rum instantly cools, refreshes and tones the skin. "As refreshing as an island breeze..."
Reviews of Clubman Bay Rum
The above is what we say. Now listen to 23 of its fans describe Clubman Bay Rum:
1. BEST SHAVING PRODUCT EVER - Posted by William Hodur on 9th Nov 2015
I had a great smell of the product because it leaked during shipment. I am waiting for replacement. (Delivered safely, we presume.)
2. BAY RUM - Posted by scott on 22nd Sep 2015
This aftershave is good,the sent is not strong. Just like what it says on the label,as refreshing as an island breeze.
3. WANT TO SMELL LIKE FUN; TRY CLUBMAN BAY RUM - Posted by Paul on 22nd Sep 2015
I love Clubman clove scented Bay Rum not only for the fresh scent but for the way it soothes my skin after shaving and seems to do the same for tired muscles and bones.
Keep up the good work. If I did not have a collection of toiletries I would most likely purchase the lime fragrance. Consider a few more essences perhaps...
4. GOOD STUFF - Posted by Unknown on 29th Jun 2015
Smells very good and feels good on the skin. I will say the scent was different from what I was expecting. I did not detect as much of a rum smell as I was hoping for, but those expectations were mostly based on my own homemade spiced rum aftershaves I have made in the past. I did add just a touch of my spiced rum to it to give it more rum on the bottom-end. Nevertheless, it's still very good. Will buy again.
5. A REFRESHING SPLASH! - Posted by Unknown on 23rd May 2015
Another product from Clubman that lives up to its name! This is my favorite one and it does last a good day! Great scent, try it and you may like it!
6. GREAT PRODUCT - Posted by rich on 15th May 2015
Smells good and goes on clean.
7. THE REFRESHINGIST - Posted by victor stirpe on 31st Mar 2015
the fragrance reminds me of coming out of a barber shop with a new flat top haircut.
8. A GOOD VALUE - Posted by Mic B2169 on 25th Jan 2015
Clubman Bay Rum is a good value product. Although I feel it has too much alcohol, the aroma is genuine and lasts. I continue to purchase it because of its value for the price ratio.
9. BRINGS BACK GOOD MEMORIES - Posted by Gil on 25th Nov 2014
This is the great fresh tingling I remember when I used to get a shave at the barber shop and put this clean smelling aftershave on!
10. SUPERIOR PRODUCT - Posted by Robert Sieveking on 17th Sep 2014
Clubman Bay Rum is a superior product. Have tried other brands, but Clubman has them all beat, hands down. The scent is a robust spicy blend, that will last all day. Others fade in a few hours. There are no finer products than Pinaud and Clubman. Have been using Clubman for decades, and will return to this site for reorder. Shipment was prompt and everything arrived in fine shape. Thank You Clubman.
11. BEST - Posted by Rick Henderson on 26th Aug 2014
Long lasting. Others that I have tried diminished quickly. My wife loves it.
12. GREAT VALUE!! - Posted by Brad on 20th Aug 2013
I began using my dad's bay rum before going on a date in high school back in the early '60's and have used it ever since. It was always the bay rum that came in a bottle wrapped in a wicker basket. Now that I'm retired, I began searching for a quality product without the fancy packaging. This is it! For those of you that are skeptical, fill your empty wicker bottle with Clubman and you'll never know the difference.
13. CLUBMAN ON LINE COMES THROUGH - Posted by Art Weiss on 19th May 2013
I was down to my las few drops of Bay Rum-have been using it for over 50 years--could not find it anywhere-punched it in Pinaud-and Clubman came up-the stores did not have it locally.-Lilac Vegetal is my other favorite-Clubman is the only other place I know for it-will have to place an order for it soon still have some left but I now know where to get fast-excellent shipping and fast service. I WILL be a repeat customer--local Barber Shops should once again get intouch with this firm-I miss seeing the bottles on their shelf while getting a hair cut.Thank you Clubman..
14. EXCELLENT VALUE - Posted by Brad on 3rd Apr 2013
A tremendous value from a company that's synonymous with men's saving products. Why pay more for a fancy bottle??
15. MEMORIES OF YEARS PAST. - Posted by Charles A McConnell 3rd on 2nd Mar 2013
i realy enjoy using this aftershave. I use to buy it in drug stores and havent been able to find it any where. I looked it up on line and there it was.
I love the smell, it's a mans smell. I also love the fact that it remindes me of when i was a boy in the 50's & 6-'s and iwas at my town's barber.
Thanks for the memories.
16. BURN BABY BURN - Posted by Matt on 12th Feb 2013
One of the freshest after shaves you will ever buy. If you want the sissy lotion stuff then stay away from this. If you want a nice burn that will finish off as a refreshing cool then this product is for you. Burns like heck, but finishes off real cool and smells great.
17. ATTENTION GETTER!! - Posted by Nick on 23rd Jan 2013
Just used this today at an after work social this is a real attention getter you don't need much either. It has a strong staying power but isn't overpowering.
The smell is a mixture between the original Pinaud classic barbershop smell and ginger bread cookies with nice spice notes. The ladies love too got some compliments on this one. 5 star all the way.
18. OLD STANDBY - Posted by Unknown on 22nd Dec 2012
Used for years and love it
19. STEADY AS SHE ROLLS..... - Posted by Unknown on 19th Dec 2012
I've used Clubman products for decades........nothing better for that clean after shave feel and suttle, manly fragrance. 6 stars.
20. USED FOR YEARS - Posted by Don on 16th Dec 2012
Have used it for years, than the store quit buying it. Glad I found you on line
21. GOOD SKIN REFRESHER - Posted by Carlos M. on 18th Oct 2012
Good for body splash after shower but for night time. Good aftershave. Manly fragance but it could be stronger in my opinion.
22. STILL THE BEST BAY RUM - Posted by John Grove on 5th Sep 2012
A few challengers are a close second like Ogallala and Captain Choice but this Bay Rum is still tops in my humble opinion. This splash is definitely not for sissies, so if you are scared of a little sting after a nice double edge shave, then this is not the splash for you, perhaps you would do well to use Oil of Olay or some other feminine cream. This one is for men. Contains bay rum oil straight from the Virgin Islands. It will soothe, tone and refresh your face and leave its irresistible scent that lingers longer than most other BR's.
So if you want to smell trendy, hip and just like you came back from a Justin Beiber concert, skip this. If you want a traditional bay rum aftershave designed by men for men, you have come to the right place.
Pinaud (pronounced Pee-Node) has been around for a long time and is still the reigning champion.
23. ONE OF THE BEST BAY RUMS - Posted by John G on 5th Sep 2012
This hard to find bay rum aftershave is a very pleasant smelling, soothing splash. I have tried a few others (Gabels, Ogallala, etc), but I am still sold on Pinaud's version.
Pinaud's Clubman is also a classic that I alternate between shaves as it is also one of the best. Kudo's to a great product that has stood the test of time.
If you want to smell 'trendy' that attracts Justin Beiber followers than this product is not for you. This is for men only.
Your Turn
Now if this does not convince you, the only solution is to try it! Order Clubman Bay Rum here.
The 6 oz bottle is $8.95 plus $4.95 flat rate USPS shipping in the US, or $13.90 plus tax. The 12 oz bottle is $11.95 plus $4.95 flat rate USPS shipping in the US, or $16.90 plus tax. (Trying it is not going to break the bank.) For international shipping, add to cart and then put in your country to see charges.
Related Post